Step into the world of Train Sim World 4
Train Sim World 4 will be released on September 26th, bringing new ways to interact with your trains! If you're a fan of British rail travel, high-speed records, and the nostalgia of steam locomotives, then this article is for you. We'll delve into the details of the Flying Scotsman, LNER's Azuma, the East Coast Main Line, and the brand-new Free Roam feature!
East Coast Main Line – Where speed meets history
An integral part of the British rail network makes an appearance in Train Sim World 4 in the form of a section of the East Coast Main Line. This high-speed route has a rich history but remains an essential part of the modern railway system with its fast, modern vehicles.
Train Sim World 4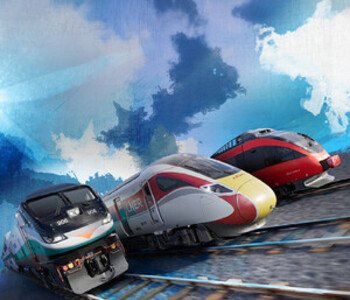 LNER's Class 801 Azuma – Modernity on the Rail
The route between Peterborough and Doncaster offers a variety of services and high-speed journeys, making it the longest route in Britain to date! It was here in July 1938 that the world speed record for a steam locomotive was set - 126 miles per hour (203 km/h) by the famous locomotive Mallard.
The Class 801 Azuma was introduced in 2019, replacing the previous InterCity trains on the East Coast Main Line. Unlike the bi-mode Class 800, which can use both electric and diesel power, the Class 801 uses OHLE (Overhead Line Equipment) for operation and is considered an EMU (Electric Multiple Unit). A small diesel engine, used only for emergencies and depot movements, is also integrated.
Flying Scotsman – A Piece of Railway History
The legendary locomotive Flying Scotsman is featured in the Deluxe Edition of Train Sim World during its memorable century. This locomotive from the National Railway Museum operates passenger services along the entire route, with Doncaster being the place where it was first built in 1923.
Freight Services with Class 66
In addition to passenger train services, the East Coast Main Line also includes freight services with Class 66. With both slow and fast lines along this part of the ECML, freight services are often seen making way for faster passenger trains in passing loops.
Free Roam – The Ultimate Freedom on the Rails
Another highlight this week is the exciting new Free Roam feature, which gives you the flexibility to place and move trains at will on any route in your collection! Immerse yourself in the fascinating world of Train Sim World and become the master of the rails!